xXxAndyxXx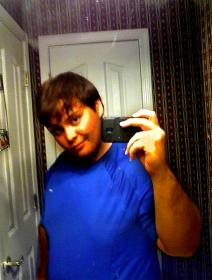 Status:
Build: chubby
Currently: with someone special
Eyes: blue
Height: 5ft. 9 in.
Ethnicity: White
Hair: brown
HIV: negative
Sexually: a top, versatile, a bottom, ask me
Body art: none
Looking for: friends, email/chat, ask me
Age: between 18 and 26
His build: slim, average, athletic
Sexually: top, versatile, ask me
Looking for: friends, email/chat, not looking, ask me
Just looking for friends
From my pics you wouldn't be able to tell that I am in fact for the most part "Straight acting," I dress however I want to, one day it's glitz, emo/scene, and glitter, the next I'm in Armani & Versace, after that I may be in just a cheap Hollister or American Eagle shirt. So don't judge a book by it's cover, I'm really into cars & racing, fast expensive ones (preferably European although I am partial to Chrysler products)




Love to make people laugh. 20 years young. I have blue eyes with green in the center with little gold star shapes around the pupil (and yes they are naturally that way) Brown hair with BLUE highlights (

at the moment.)




I'm full blooded Italian, still have some family over there. =)




My favorite colors are red and purple, I can't pick just one.




I'm very witty, ambitious, open minded, and blunt. I like all sorts of music with the exceptions of country and gospel which I hate with a passion.




I have ridiculously high standards, and will not settle for less than what I want.

. I'm very outgoing, but I am not extremely feminine, I do have emotions though. I enjoy entertaining, joking, dancing, texting, shopping, the gym, hanging out with my friends (all the time), meeting new people, I do a lot so I have something in common with most people. Quiet/shy people make me uncomfortable.


I'm only looking for friends.

You should get to know me cause I'll change your life

:)


Message me.




Anyways, I'm very talkative and my life is pretty much an open book, talk to me, ask me questions, maybe we can become close friends.



xXxAndyxXx 's friends: (320):
david1989
doobiedrew
thorgal
SunShine87
aussieboi87
kuntrikid
pearmbeatgutz
sexylove69
JayJiminez
darkness420tkr
HotandHungMS
sexyasssean
hardntasty
kjkb508
frost2oo6